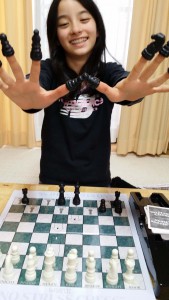 No Stress Chess is a chess game that beginners of any age can immediately start playing. It is a fast way to learn how to play chess for kids. Adults with no experience of the game can also quickly learn to play chess with this game.
No Stress Chess really does take all the stress out of learning the game and teaching it to children.
The game comes with a folding board, plastic playing pieces, a set of 56 action cards. A plastic a storage tray holds the cards both inside the box and during play.
The folding two-sided chess board has a training chess board on one side. It shows you exactly where to put your pieces at the beginning of the game.
Once you have played a few times and are familiar with the set-up, you can flip the board over and play on a regular chess board.