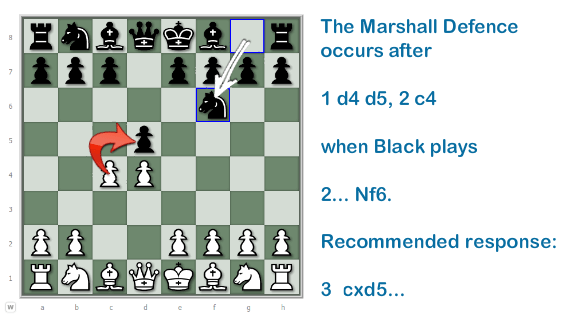 In this video I take you through some chess opening moves White can play when Black responds with the Marshall Defence.
The Marshall Defence occurs after 1. d4 d5 2. c4…
Black now moves his g8 Knight to f6. When that happens, what should White do?
On page 42 of A Strategic Chess Opening Repertoire for White John Watson recommends, 3. cxd5, the most common line against the Marshall Defence.
Actually, most of the theory behind this chess opening moves video training and blog post is taken from A Strategic Chess Repertoire for White – it's an excellent guide to anybody who favours the Queen's Pawn openings and is available on Amazon: https://amzn.to/2LPDCaf .
After 3. cxd5 Black has several options but I confine the video and this blog post to just ONE response, 3… Nxd5.
Continue Reading