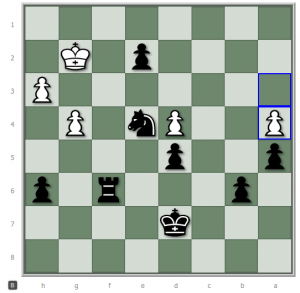 I had achieved a decisive advantage against my regular opponent in a recent "over the board" game of chess, but he was hanging in there and not resigning, even though I was about to promote my pawn (see diagram, left).
There were just a few minutes left on the clock, so perhaps he was hoping to survive until the flag dropped, but at best it was a forlorn hope.
The game could be easily finished off in a couple of moves by Black promoting the e2 pawn to a queen and then moving the rook to f2, so this game is not really a perfect illustration of the title of this blog post, but what happened in this game did make me think about those occasions when it can actually be better to promote the pawn to a knight instead of a queen.