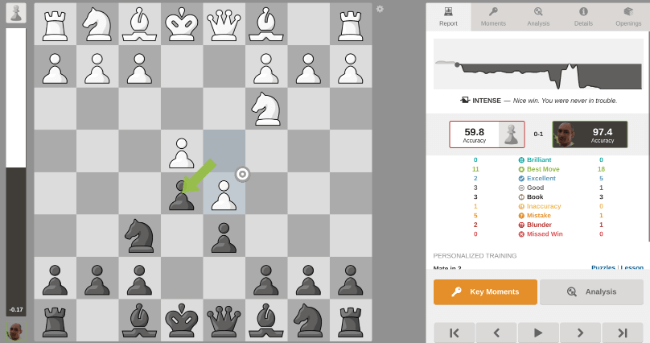 In the last game I played as Black against my regular opponent, he opened with 1. e4 and I replied with my repertoire move, 1… d6. A few moves later we found ourselves with a situation that seemed familiar!
e4 d6
d4 Nf3
Nc3 e5
We arrive at the Maróczy Defence by transposition. (The pure Maróczy Defence is 1. e4 d6, 2. d4 e5…)
Next, my opponent decided to advance his Queen's pawn, which the Chess.com engine rates as "good," which really means just "okay." Clearly, the chess engine prefers to exchange pawns, which often leads to an early exchange of queens (4. dxe5 dxe5, 5. Qxd8+ Kxd8).
I responded with 4… Be7 and realized that if my opponent were to play 5. Bg5 the "Maróczy Defence Pawn Grab" (as I call it) would be in play…
Back in April I completely missed the opportunity (see my previous blog post and video) when the exact same situation occurred. This time around, my opponent had completely forgotten about that game and conveniently played 5. Bg5? again, just as he did in April!
Continue Reading