Bishops in chess can be tricky pieces to place correctly on the board in the opening game. Here is an example of a Queen Pawn opening blunder that involves the loss of White's black-squared bishop. My opponent was the White player. 🙂
My opponent opened with d4 and I replied with Nf6. The first three moves suggested to me that White was playing a delayed Queen's Gambit.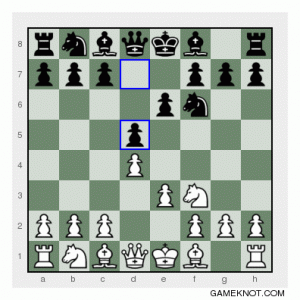 However, what followed was an ill-conceived string of bad Bishop moves that led White to disaster:

4. Bb5+ c6 (easily dealing with the checking Bishop, and completing Black's pawn set-up)
5. Ba4 Bd6 (Black continues to develop.)
6. 0-0 Qc7 (eyeing Black's h2 square and keeping the knight on f3 busy.)
7. Bd2 Nbd7
8. Bc3?? This is where things unravelled for White. Can you see WHY moving his bishop to c3 is a bad move here? Can you guess what Black did in response? What would you do if you were black?